What's the best cat collar?
To answer this, you first need to ask "Why does my cat need a collar?" The answer to that is: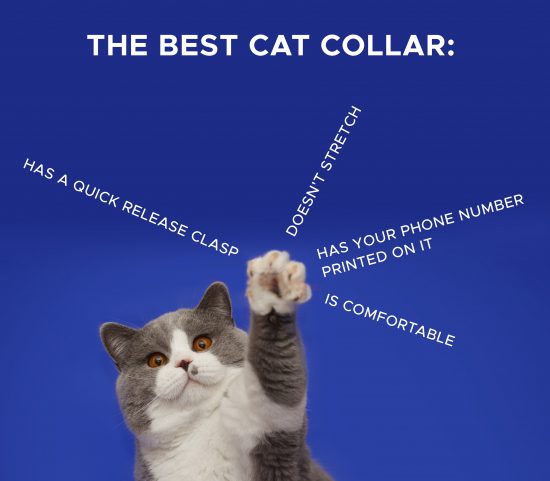 to show people she has a home

and

to give your contact details in case she gets lost or injured (a microchip is not enough)
So you've decided your cat needs a collar, but there are hundreds to choose from. Which one is the best?
The best cat collar:
has a quick-release clasp
doesn't stretch
has your phone number printed on it
is comfortable
A quick-release clasp opens quickly if your cat gets caught on something, preventing injury and strangulation. Not all quick-release clasps are the same, so please see our other article about this.
The collar should not stretch. Elasticated cat collars (with an elastic insert or fully elasticated) – even if combined with a quick-release clasp – are not safe. A cat can get its front leg caught in an elasticated collar which can lead to a serious injury. Even with veterinary treatment, sometimes the injury doesn't heal and may require amputation. Another scenario is if the cat gets caught on something, it will struggle, twisting and twisting the elastic. This may lead to strangulation.

All of our cat collars have quick-release clasps and don't stretch. There are many hanging hazards both inside and outside the home, so this is the only type of cat collar to consider.
With our personalised cat collars, your phone number is printed directly on the collar. It's a great alternative to a cat tag which can get caught on things and which some cats find annoying. We offer two types, Personalised Soft and Personalised Reflective.
And finally, you want a comfortable collar that your cat doesn't mind wearing.
Then you need to consider what other features you might need:
Reflectivity: A must-have for cats that go out at night, our super reflective cat collars and personalised super reflective cat collars are the most reflective collars you can buy.
Bell: Our own cats don't like bells, so we don't use them. But there are two reasons why many people choose to put a bell on their cat's collar:

to know where their cat is. This is especially helpful for kittens/cats that are always under your feet.
to reduce predation of birds and rodents. According to the Royal Society for the Protection of Birds (RSPB), a bell may reduce predation of birds, mice and voles. Some of our customers tell us that two bells work better than one. Apparently, cats can learn to control one bell when stalking prey but find it more difficult to control two. We supply double bells free of charge.
Our collars can be ordered with or without a bell. If you'd like double bells, just let us know!

D-ring: You might want to request D-ring if you're attaching a cat tag to the collar. Cat tags normally come on a split ring that you can attach to the D-ring. Please note that cat tags aren't needed with our personalised cat collars which is one reason they're such a nice choice.
By Marla
co-owner and chief cat-cuddler
Kitty Collars
Copyright Cat Happiness Limited 2004-2019. We'd love it if you'd link to this page, but you may not copy any of it without our permission.